eBird GPS track downloader
(Browser extension)
Version 1.0.1 —
Link to install Firefox extension
Link to install Chrome extension
Link to install Edge extension
On any eBird checklist that has a map, eBird GPS track downloader provides a link by which you can download the GPS track data in a gpx format file.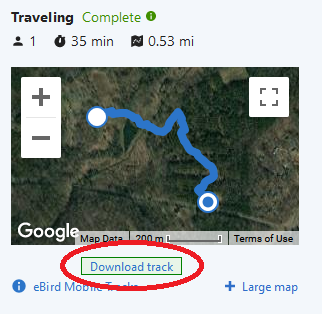 The downloaded gpx file can be loaded into Google Earth or other GPS software.
If you open the gpx file in Google Earth, which you can do by drag and drop, you'll get this dialog: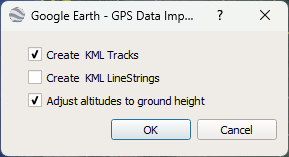 You need KML LineStrings, so you must check "Create KML Linestrings".
I can't explain why, but if you leave "Create KML Tracks" checked, you will get the track in duplicate, so uncheck that box.
You must leave "Adjust altitudes to ground height" checked. If you uncheck it your tracks will be plotted at sea level, thus out of sight underground.
So you want to change the dialog to look like this before you click "OK":