eBird GPS track downloader
(Browser extension)
Version 1.0.1 —
On any eBird checklist that has a map, eBird GPS track downloader provides a link by which you can download the GPS track data in a gpx format file.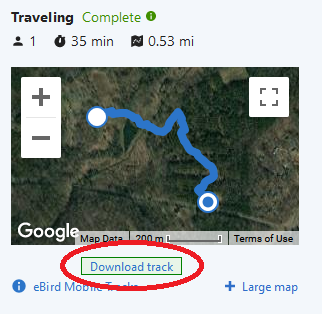 The downloaded gpx file can be loaded into Google Earth or other GPS software.
If you open the gpx file in Google Earth, which you can do by drag and drop, you'll get this dialog:
It doesn't seem to matter whether or not you check "Create KML Tracks" but you must check "Create KML LineStrings". Also, it's important to leave "Adjust altitudes to ground height" checked.