eBird trip report GPS track downloader
(Browser extension)
Version 1.0 —
On an eBird trip report, this browser extension provides a way to capture all of the available GPS tracks and save them in a single gpx file. Clicking on the "Checklists" button (just below the map) adds a new button to the end of the "Edit" pulldown menu, labeled "Download tracks" as shown in the figure below. Clicking "Download tracks" downloads a .gpx file
This extension is only functional on trip reports that you own or that you have joined. Simply having a link to someone else's report is not sufficient. Within the report, GPS tracks will be available only for checklists that you own or that you share.
In a trip report that is shared with others, be sure to switch to your own personal view (where it says "DATA FOR:", select your own name).
Tracks from hidden or flagged checklists are not included.
The downloaded gpx file can be loaded into Google Earth or other GPS software.
If you open the gpx file in Google Earth, which you can do by drag and drop, you'll get this dialog: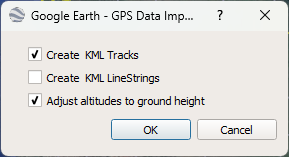 You need KML LineStrings, so you must check "Create KML Linestrings".
I can't explain why, but if you leave "Create KML Tracks" checked, you will get tracks in duplicate, so uncheck that box.
You must leave "Adjust altitudes to ground height" checked. If you uncheck it your tracks will be plotted at sea level, thus out of sight underground.
So you want to change the dialog to look like this before you click "OK":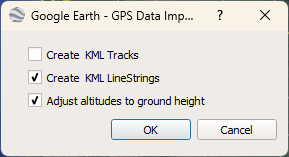 FAQs
Q: It doesn't work?
A: I'm finding that some people don't understand that you actually have to install an extension, the new function is not just there by magic. For Chrome, click on the Chrome link above, then click "Add to Chrome". For Firefox, click on the Firefox link above, then click "Add to Firefox". Note that extensions are only supported on desktops and laptops, not on mobile devices. This is a limitation imposed by both Chrome and Firefox.

Q: It doesn't work?
A: Your first step is to click on the "Checklists" button (just below the map). When you do this, the Checklists header will turn green and the other headers will be blue. The page will display the list of checklists, not a list of species.