eBird reviewer utilities—browser extension
Version 1.3.15, released 6 September 2023
Link to install Firefox extension—Click link then "Add to Firefox"
Link to install Chrome extension—Click link then "Add to Chrome"
Link to install Edge extension—Click link then "Get"
This browser extension provides a number of enhancements for the eBird review web pages. Note that eBird review web pages are available only to eBird reviewers.
The extension works on Firefox, Chrome, and Edge, on a desktop or laptop. I'm sorry I am not equipped to make extensions for Apple browsers. I'm also sorry that the extension can't run on mobile devices, because neither Firefox nor Chrome have much support for mobile extensions.
To install in your browser, just click the appropriate link above, and then "Add" or "Get".
Firefox users: if you are stuck on Version 1.3.3, you must do a one-time manual update to get to the current version. Click on Tools->Add-ons and Themes, click the gear icon at the top right, and click "Check for updates".
Enhancements for the traditional review page
Added functions pull-down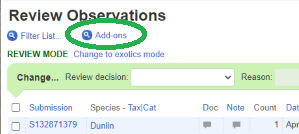 At the top of the traditional review queue page, the extension adds a hyperlink labeled "Add-ons".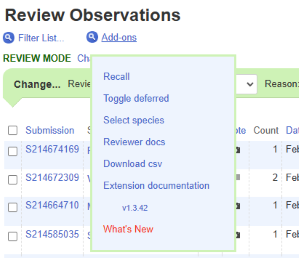 When you hover the mouse pointer over "Add-ons", a list of clickable links to added features pops up. You can click the feature that you want to use.
These are the added features accessible from this list:
Recall. Have you ever closed a record and then immediately realized you should have done something differently? It's a real nuisance to get back to that now-closed record, and the more so if you accidentally closed multiple records. The "Recall" feature, for those "oops" moments, recalls links to the last record(s) that you updated in either traditional or quick review. If multiple records were updated in one operation, each is listed separately.

Clicking "Recall" a second time hides this line again.

Pro tip: if you are so unlucky as to need to correct a set of multiple records, keep in mind that as soon as you correct one, it becomes the recently updated record. To avoid losing track of your list, keep the window with the original list open and do all your work in separate windows.

Toggle deferred. When you have a lot of deferred records, it's nice to be able to selectively see only deferred, or only not-deferred records. Repeatedly clicking the "Toggle deferred " hyperlink cycles through displaying all records, only non-deferred records, only deferred, or only rereview records. Note: this only applies to records that are already displayed on the current page. If you have observations distributed over multiple pages, it will not bring in records that are on another page. You can get a similar result by sorting on status, but toggling is so much faster, and doesn't require re-sorting after. However, sorting may be preferable when you have multiple pages.

Note: the "select all" checkbox is disabled when some records are hidden. This is because "select all" would operate on hidden as well as displayed records, which would lead to confusion and errors.

The Toggle Deferred setting is "sticky"; it remains set until explicitly changed. Previously it would reset when the page reloaded.

Reviewer docs. Clicking this link pops up a clickable list of selected reviewer documents that are on the eBird Google drive. Click a document name to open the document. Click the list to close it.

Download CSV. Clicking this hyperlink downloads the displayed queue or search result in CSV format, which can be opened as a spreadsheet. The downloaded CSV file also has an added column named "Day of Year" that contains the month and day without the year. There might be different advantages of having a search result in CSV format, but one in particular is that you can either sort it by day of year or make pivot tables based on day of year, which is handy in planning filter changes. Note that this function operates only on displayed records; the downloaded file will not contain any records from other pages. Be sure to adjust your page size as large as necessary before downloading.

Extension documentation. A link to this page.
Display enhancements
Width adjustments. The widths of "Review decision", "Reason", and "Notes" inputs are adjusted to values that I prefer. This is handy if you are really obsessive about being sure what your inputs are. For example, you see "Documentation Inadequate-Species" instead of "Documentation In", and you see more of the beginning of your Note text.
Per record enhancements
Media display enhancements. The review queue table has a new column headed "Doc". At the top level this column appears to be a duplicate of the column headed "Note", which is the original unmodified column as supplied by eBird central. However, clicking on an icon in the Doc column has a different effect than in the Note column. Upon clicking, the observation comment and/or media are displayed in a new row. Unlike the original code, this enhancement results in reliable display of the media. Also unlike the original code, it displays audio as well as photos.

Each image can be clicked to show the corresponding Macaulay library page.

For audio media, the image of the audiospectrogram is accompanied by a link labeled ".mp3". In Chrome, clicking this link downloads the mp3 file. In Firefox, clicking loads the mp3 file into a player, but you can download it from there. If, like me, your hearing is such that you often can't even hear a bird in the poor quality audio that people upload, downloading the audio file is desirable so that you can clean it up or at least amplify it in Audacity or other program in order to be able to evaluate it.

Checklist link. At the end of each record is a hyperlink to the eBird checklist for the observation. It's amazing how much nicer it is to have one-click access rather than two-step access for checklist pages.

Deferred records. For deferred records, the species name is displayed in pale gray.
Enhancements for Quick Review
The enhancements for Quick Review appear between the top panels and the "DOCUMENTATION" heading, as illustrated below.

Recall. This is the same Recall as described for traditional review. Clicking on Recall opens a list of most-recently updated records, even if they were removed from your queue. Clicking on Recall a second time closes this list.
eBird checklist. A link to the eBird checklist for this observation.
eBird species map for month. A link to an eBird map for the area near the checklist location, for the months of the year before, during, and after the month of the checklist. Surprisingly handy.
Hotspot or a personal location. The type of the checklist location. If a hotspot, the text "Location is hotspot" is a link to the hotspot page.
How submitted. Whether submitted via mobile, web, or upload. I'm sometimes curious about this. The standard report on mobile entry is hit-or-miss; sometimes there, sometimes not; and it doesn't identify web or upload submission.
Media. A count of photos, audio recordings, and videos attached to the observation. I include these counts because on rare occasions Quick Review can fail to display media that are actually present. These counts can alert you when there are media that aren't shown.
Checklist comments. The checklist comments, if any, are displayed on the next line under the above items. Up to 400 characters are displayed initially; if the comments are longer there is a "More" button for displaying the entire comments. People sometimes put important observation comments in the checklist comments.
One other enhancement:
Review reason and notes placement. This panel is moved down slightly so that it does not entirely cover up the comments and photos. Coincidentally this also places its Accept button in the same place as the underlying Accept button, which eliminates the need to move the mouse when accepting a record.
Enhancements for Quick Review email
In Unconfirm or Defer emails, the checklist URL is hyperlinked.
In Unconfirm email for a record with media, the text "The documentation you have provided shows a" is replaced with "The photos you have provided show".
Enhancement for the History page
There is one addition to the History page.

At the upper right corner is a link labeled "eBird species map for season". This is the same map link as described under Enhancements for Quick Review, and it shows distribution of accepted records for the species in the vicinity of the checklist location, during the months around the checklist's date.
Enhancements for the Filter page
Links to bar charts

There is an added button for each taxon on an eBird filters page. The button is green and is at the far right of each taxon entry. Clicking the button opens the barchart page for the taxon for the filter's geographic area.

(Note: this function was formerly provided in a separate browser extension. If you have that extension, you should uninstall it as it is now redundant.)

Filter Save.

Each filter page has an added link labeled "Download csv". Clicking this link extracts the data from the filter into a .csv file, which can be downloaded and then opened in a spreadsheet program. In itself, downloading the filter data in this way may not be much more valuable than just saving the web page. However, the downloaded file has the advantage that it can be easily processed by another application. One such application is the eBird filter comparator, which compares two saved filter files and reports the differences.

(Note: this function was formerly provided as a bookmarklet. If you have that bookmarklet, you should delete it as it is now redundant.)
Enhancement for the Search Results page
If a search returns fewer results than the maximum that can be displayed, the standard interface shows that it is displaying the maximum number of results. This extension shows the actual number of results

All links provided by this extension open in new windows (or new tabs). I advise against following links forward or backward from any of these windows; it gets confusing. For best results, just close the window when you finish with it and go back to the original window.
I also have some other browser extensions and web applications that enhance eBird in various ways. You might find them of interest as well.